The AGGREGAT installation consists of a 4 by 4 grid of moving speakers mounted at head-height. The 16 speakers form a multi-channel sound-system as well as a kinetic sculpture, that fills the gallery space. Visitors are encouraged to walk among the speaker-figures and find their own place and path within the installation.The bespoke, custom built speaker-suspension in gimbal-shape was engineered and manufactured by Daniel Bisig at the ICST's workshop during the summer of 2015.
Control electronics for the movement runs on a standard Arduino combined with PWM-driver boards and is controlled via software that runs in parallel with the sound-diffusion software.
Even though the technically real-time capable, in the current exhibition mode the installation features pre-rendered pieces comprising 16-channel audio-files and movement-score files.
The composition workflow of the pieces spanned algorithmic systems-pieces, field-recording and radiophonic pieces with minimal panning and movement and highly edited tape-pieces with complex movement-'choreographies'.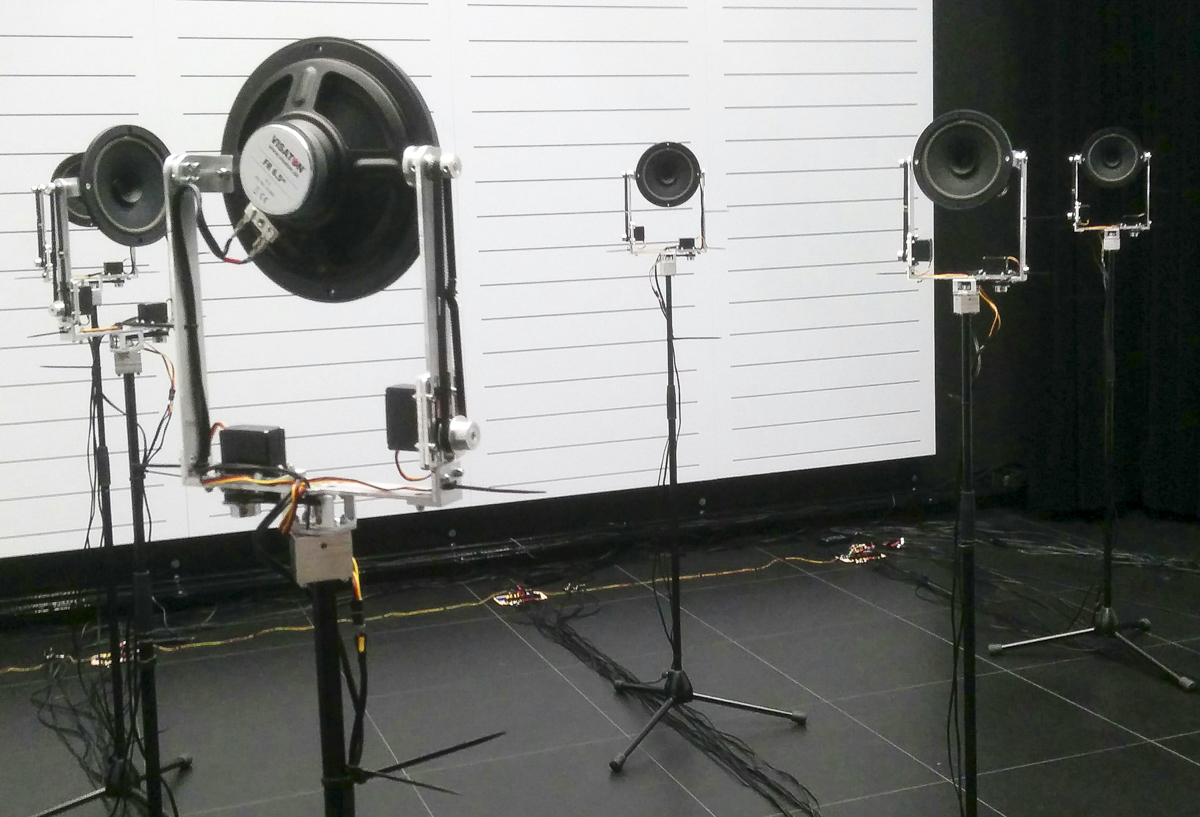 The hardware for the loudspeaker attachments have been custom designed and manufactured at our institute. It integrates an actuation mechanism that allows to change the pan and tilt orientation of each loudspeaker driver within a range of 360° and 180° respectively. The design balances the following technical and aesthetic criteria: fast, low noise and stable rotational movements, lightweight and open design that exposes the mechanical and acoustic components. The development process iterated through several prototype designs with the last one being manufactured as a small production series on our in house CNC mill.
The specification of the final design are as follows:
– broad band 60 watt loudspeaker driver ( Visaton FR 6.5 )
– low noise Karbonite gear servo motors ( Hitec HS-755HB )
– full aluminium frame
– brass rotational axes supported by ball bearings
– toothed drive belts for force transmission
– stable center of mass during rotation