Jan Schacher
This composition explores multiplicities of voices, polyphonies, through layering and juxtaposition of movements and sonic spaces. The stage in the 'Aggregat' is set for the speakers to have characters of their own, to become figures with their own voices, as if in a society of speaking beings. Over time monologues and dialogues develop, affirmations are made, dreamlike inner voices appear that seem lost in thoughts.
The voices and sounds move through the grid and by the movement-patterns and 'choreographies' immerse the listeners, taunt and encircle and possibly compel them to move among the speaker-figures, in order to change perspective or listen more closely to individual sounds.
Evolving through sonic scenes an abstract story is evoked, told and lived. The three female performers become present through the immediacy and corporeality of their voices. The intimacy of these voices and their closeness has the potential to touch the listener and put her into states of sound, music, and altered listening.
Word fragments evoke these states: The body in a state of music, the desiring body, the madness of being immersed in sound and music.
The quotes are by Roland Barthes: "Nothing exists, save desire" (from Fragments d'un discours amoureux),
and "la musique une folie – pénétrée de désir – le corps en état de musique" (from Rasch).
More words appear loosely and map out poetic and imaginary territories.The piece was composed with the voices of:
Sarah Swinwood
,
Kornelia Bruggmann
, and
Alexandra Frosio
.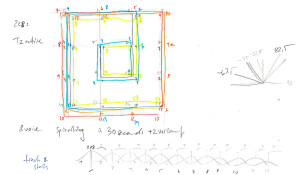 This is a stereo-downmix of the composition visualised with a simulation of movements across the speaker array. Please refer to the gallery videos for a more natural impression. However, neither of these videos can properly represent the enveloping and spatial character of the composition and the installation.